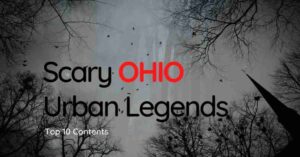 Hey Guys! We have today the top 10 list of Scary Ohio Urban Legends. Don't waste the time. Let's explore these scary and true Urban Legends. 
10. Blue Flame Ghost.
The story goes that in the 1930s, a woman lived in Ohios Sugar Grove. She was young, happy, and liked by everyone. She fell for a young man who had a terrible temper and the couple was often seen arguing in the town. Over time, the locals noticed her changing, she never smiled anymore and began to grow cold and weary. One night, the couple was parked beside abridge when naturally, an argument broke out. This time it was worse than usual. In a fit of anger, the young woman pulled a knife out and stabbed her fiance's throat. She kept slashing until his head came off. She herself was bleeding from the struggle. She staggered back down the hill, carrying her fiances head. She eventually collapses and died at the bottom of the hill where she was found by locals the next day. Since then, the old bridge was replaced by a concrete one. However, some still say that on certain nights, if you stand on the bridge and call out the woman's name, her glowing blue spirit will appear at the top of the hill and move towards you. What you do at that point is up to you, but given the vengeful state she died in, most people don't stick around… 
9. The Defiance Werewolf. 
The people of Defiance in Ohio have claimed that for the past 45 years, they've been terrorized by a werewolf. It was first sighted in 1972. Over the summer, there were many sightings of a rampaging, hair-covered beast on two legs – it was said to have a muzzle and was covered in rags. The local media went into a frenzy and even the police opened up a case file on the sightings. There have been many sightings since then- many of them were around a series of old railroad tracks in the town, usually late at night. One of the first sightings was by a Mr. Davis. He said -I was connecting an air hose between two cars and was looking down. I saw these huge hairy feet, then I looked up and he was standing there with that big stick over his shoulder. When I started to say something, he took off for the woods- … his friend, Mr. Jones, was with him at the time. He said -At first I thought the whole thing was a big joke, but when I saw how hairy and wooly it was – that was enough for me …
Are you enjoying these Scary Ohio Urban Legends! Let me know in the comment box.
8. Brubaker Bridge. 
According to legend, in the 1930s, there was a brutal one-car accident on this bridge over Sams Run Creek, Butler County. The bridge is in a rural area and nobody discovered the crash victims until later than night when a local farmer passed by. The farmer went to get help and a total of12 bodies were recovered. They were eventually identified and given proper burials. That wasn't the end of things though. Shortly after, the farmer who originally discovered the bodies claimed that while crossing the bridge one night, his car suddenly died. He said he heard 13 knocks on the car – then a hissing noise started before suddenly, the car came back to life. Locals say that this is the spirit of the13th victim whose body was never recovered. The spirit is still said to haunt those who pass over the bridge, hoping they will be the ones to find the body and give them a proper burial so that they may pass on peacefully … 
7. Stoney Creek Cemetery.
The story goes like this. In 1825, the local caretaker of Stoney creek cemetery in Adams county made a discovery. At the bottom of a large tree was the body of a young man – it didn't take much to figure out the cause of death as the man's head was missing. Although its hard to beat that in terms of strangeness – there was one other thing – the crime scene was clean of any blood around the body. The police determined the murder must have taken place somewhere else before the perpetrator dumped the body in the cemetery. Rumors began to spread that the head had not been cut off but rather ripped off by something extremely powerful. The case remained open and unsolved for many years before entering books of folklore … there are those that say that some nights, a misty figure appears under a tree in the cemetery, the ghost of the unidentified man, unable to find peace until his murder is solved … 
6. Patterson Tower. 
There are a number of theories about the origin of this tower, thought to be built by a John D Patterson many years ago. According to legend, a group of teenagers in the 160s took refuge in the tower during a thunderstorm. A lightning bolt hit the top of the tower, electricity surged down the metal stair rail and electrocuted 2 of them, killing them almost instantly. They say that in the weeks afterward, you could still see their charred outlines on the tower wall. Officials blocked off the tower from darktourists by placing metal plates across the door. Visitors still ripped them off though to see inside. Legend now says that on stormy nights, the shadowy spirits of the teenagers who died can be seen in the tower.
5. Little Sugar Creek. 
The town of Bellbrook is sometimes referred to as -Ohio's Sleepy Hollow- because of all the ghostly legends that originated there. A man called James Buckley ran a sawmill there many years ago. He lived in a small cabin and grew his business to great heights, becoming the wealthiest man in the town. One night, his newfound wealth attracted some robbers. When authorities arrived, they found Buckleysheadless body outside – the murder was never solved. People said the Cabin was haunted by his spirit- those who ventured there said they'd been confronted by a headless ghost, his arms outstretched as if begging for help. In time, the sawmill was demolished – but that didn't bring an end to the sightings. Locals still say if you wander down to LittleSugar Creek where the sawmill once stood, you can still see the ghost of James Buckley, unable to pass on peacefully while the case of his brutal murder has been left cold …
4. Otterbein Cemetery. 
This one is also known as Bloody HorseshoeGrave. During the 1840s, an Ohioan called James Henry was involved with two women – Rachel Hodge and Mary Angle. He wanted to know which one to marry. One night while riding home, he fell asleep on his horse. He awoke to find his horse had not taken him home but had instead stopped in front of Mary Angles's house. He took this as a sign and soon he and Mary were married. As a wedding gift, he gave her the horse that brought them together. They lived happily but in 1845, Mary died from one of the many prevalent diseases at the time. She was buried in Otterbein Cemetery. Henry began courting Rachel Hodge and eventually, the two were married – he gave her the same horse as a wedding gift. They hadn't been married long before locals noticed something strange about Mary's tombstone, there was a glowing outline of a horse on it. James took that as a sign that Mary was displeased with his new marriage. They said he was cursed. One night, witnesses heard strange noises and lights coming from the cemetery – the next morning, James was found dead in his barn with the mark of a horseshoe on his forehead. His death was ruled an accident as Henry had been alone in the barn – all alone except for one other creature, a horse. Even today, they say a strange horseshoe mark is still visible on Mary's tombstone and that on some nights you can hear the sound of hooves trotting up the cemetery road … 
Are you enjoying these Scary Ohio Urban Legends! Let me know in the comment box.
3. Buxton Inn.
This place has been going since 1812 making it one of the oldest Inns in Ohio. In the mid-1800s, Major Buxton, after whom the inn was named, took control of the inn. There have been reports of ghosts there ever since. Many of the ghosts alleged to haunt the innate said to be previous owners. However, there are also strange knocking people who have heard coming from the basement where the stagecoach drivers would have stayed. That door to that same basement is known to open and close by itself and there have even been reports of footsteps coming up and down the stairs there. Major Buxton spirit is said to be a shadowy figure, often sighted in the dining room. Another owner, Orin Granger appears as an elderly woman wearing old fashioned breeches who are said to steal pies. There's also the lady in Blue who died in the inn and is recognizable by her distinct perfume. There's even a phantom cat that enters visits people's rooms at night in much the same way it did when it was alive … 
2. Old Raridan. 
The story goes that as European settlers first began to arrive i8n the Ohio valley, wolf attacks on livestock became more and more frequent. Farmers began to hunt down the wolves, possibly to the point of extinction – but none of them could have predicted what came next. One olf in particular always managed to escape the farmers, a huge gray one that came to be known as old Raridan. Farmers often reported seeing him and his mate wandering through the woods but they could next corner him. Eventually, they were the only wolves that remained. One night, the wolves were trapped with their backs against Big Rock, a famous landmark. The hunters opened fire and brought the female down. Just as the hunters set their dogs loose to finish her off, a loud cry echoed through the woods – Old Raridan leaped in front and fought the dogs off. The hunters opened fire and wounded him. Eventually, they called off their dogs. Old Raridan dragged his dead mate up to the top of Big Rock. Once there, he let out a thunderous howl across the backdrop of the moon and then slumped down beside his mate. All was quiet – but not forever. On certain nights, locals say you can still hear a painful howl and that if you head to the top of Big Rock, you'll be faced with the ghost of Old Raridan, still ready to fight in his afterlife … 
1. Bloody Bridge.
Sometimes you can tell from the titles where these stories are going. This bridge lies just outside of Spencerville, crossing the Miami Erie Canal. According to legend, the bridge was the site of a grisly murder in 1854. In the years before, a rivalry grew between two men – Bill Jones and Jack Billings. Both had fallen for a woman called MinnieWarren. In the end, Minnie chose Jack, sending Bill into a fit of rage. One night in 1864, Minnie and Jack began to cross the bridge on their way home from a party. At the other end stood Bill – he was holding an ax. They didn't have time to run. Bill took one swing and severed Jacks' head. Minnie screamed and jumped off the bridge and into a watery grave. Bill disappeared until his skeleton was found years later in a well – was it suicide or revenge from the couple's family? Either way, the years since then have seen reports of ghostly images of the murdered couple on the bridge. Some even say that when the water gets dark enough, you can look over the bridge and see Minnie Warrens's face staring back at you in horror … 
I hope you enjoyed these Top 10 Scary Ohio Urban Legends. Check out our list of Top 10 Urban Legends.
Also Read: